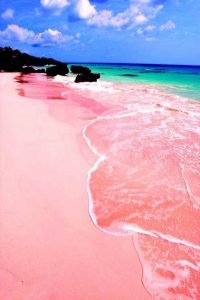 Bermuda has lots to offer tourists, and there's no doubt that its 34 beaches, which if combined would stretch for over 70 miles, are a major attraction. From secluded beaches perfect for a romantic rendezvous or spot of meditation, to family friendly locations , there's a beach to suit all tastes.
Although a third of all public beaches are found in South Shore National Park, there are beaches in every parish of Bermuda; so wherever you decide to stay you'll find one close to hand.
Pink Sand
Many beaches do have the infamous pink sand – which is a blend of sea shell and coral debris, but not all. Head for beaches on the south shore if pink sand is a must see. (You are not allowed to take the sand home, but it is sold in many gift shops.)
Take Care!
Not all beaches have lifeguards, and those which do tend to hire for the summer only. Coral and jellyfish can both cause distressing injuries, while sudden shelving, unpredictable currents and changeable water conditions can make unsupervised swimming in the water risky for children at some beaches.
Here the beaches most worth visiting have been included, and categorized as far as possible by the groups they most appeal to, although of course there is some crossover in several listings.
Bermuda's beaches are open from sunrise to sunset but overnight stays/camping are not allowed.
Good for Peace Seekers
Hog Bay Beach (Sandy's Parish)
Small and secluded so usually very quiet
Takes around 15 minutes to reach on foot through the park
Accessible only during low tide so check timings carefully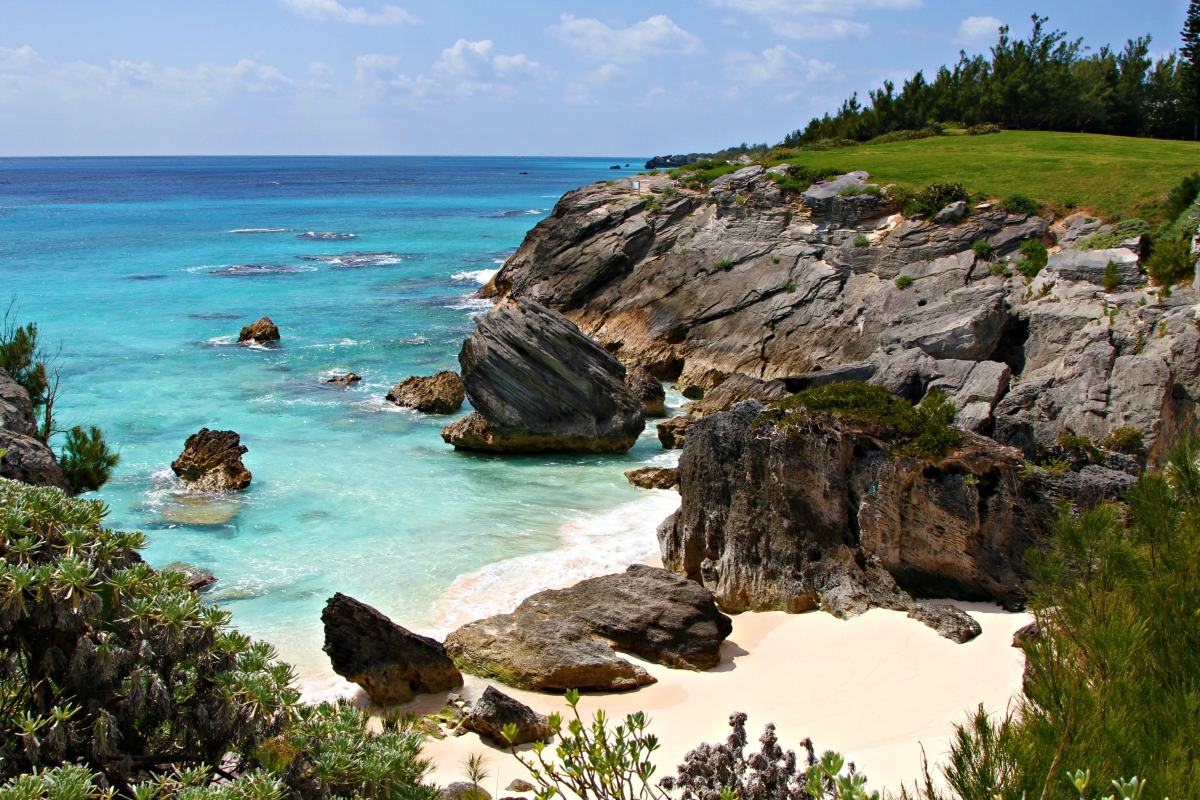 Astwood Cove Beach (Warwick Parish)
Although small it is quiet and secluded, so rarely busy
Good for strong swimmers and serious snorkelers
Getting there involves a fair walk on a steep path
No facilities or shops
Great for photographers and artists
Warwick Long Bay Beach (South Shore Park)
Pink sand
Lots of space
Secluded
Good for snorkeling
Snorkeling equipment rental and refreshments available in summer season
Not suitable for younger children unless constantly supervised due to shelving, strong currents and rough water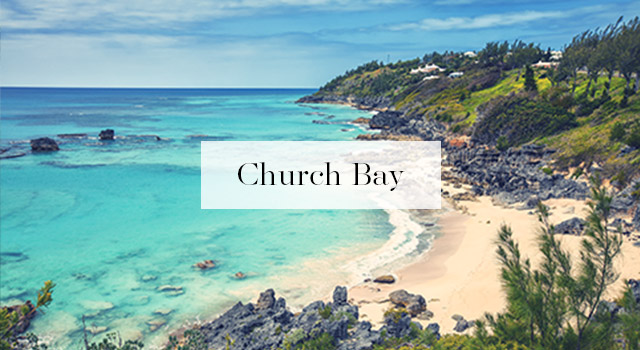 Snorkeling Spots
Church Bay Beach (Southampton Parish)
Excellent snorkeling
Very small sandy beach with many rocks – not good for sunbathing
Not really suitable for children due to sharp slope in sea bed
Limited facilities (public bathrooms and picnic tables only)
Tobacco Bay Park (St. George's Parish)
Popular with local people
Popular with snorkelers
White sand
Small so gets full quickly
Option to rent sun-loungers, sunshades and snorkeling equipment
Safe for children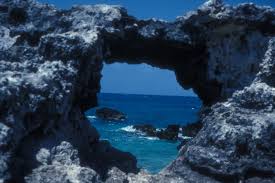 Family Favourites
Clarence Cove (Spanish Point; Pembroke Parish)
A 2 mile walk or short bus ride from Hamilton
Both small beaches are reached via a path inside Admiralty House Park
Safe for children
Very busy during July and August
Somerset Long Bay Park Beach (Somerset Village; Sandy's Parish)
Safe for children to swim
White sandy beach
Generally very quiet during the week
Good for snorkelers
Elbow Beach (Tribe Road #4, Paget Parish)
Pink sand
Part public, part private
On a bus route
Calm waters –safe for children to swim
Popular with family groups
Fee payable to enter [public] beach area, which covers access to changing area, beach chairs and refreshment facilities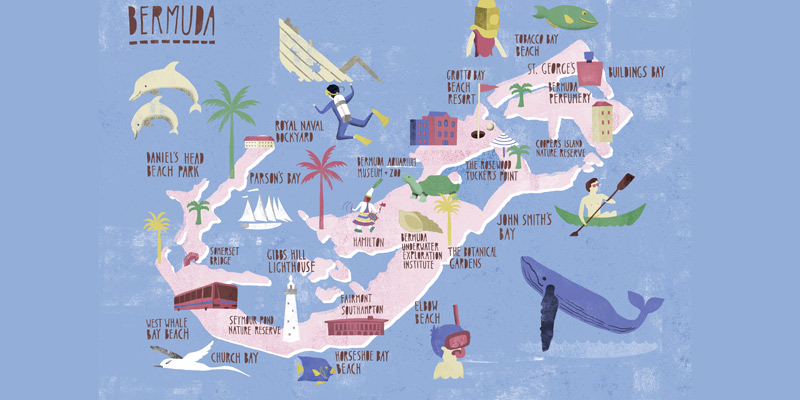 Quiet Spots
Parson's Bay (Lagoon Park, Sandy's Parish)
White sand
Generally quiet
No public transport available
Mangrove Bay (Sandy's Parish)
Close to Somerset Village, a popular shopping area
Generally quiet during the week
Safe to swim but children need supervision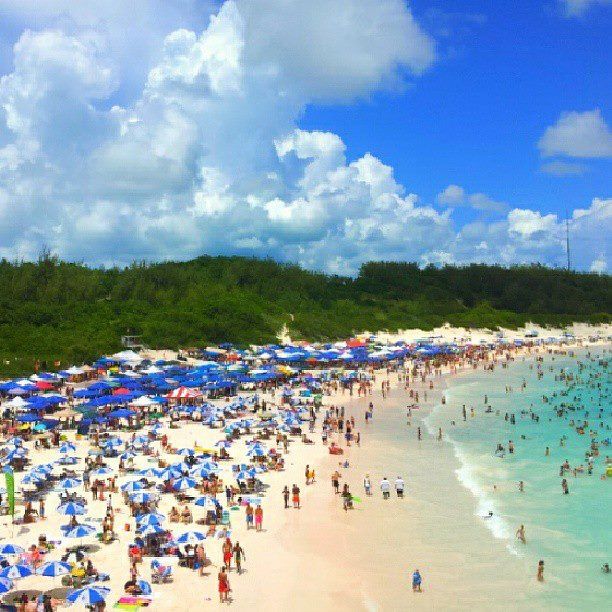 Busy Beaches
Some beaches are real draws for tourists, so if you like being around people head for these.
Horseshoe Bay (South Shore Park, Southampton Parish)
Mostly busy on weekdays and very busy at weekends
Shallow water makes it popular with families
Said to be one of the prettiest beaches in Bermuda
Pink sand
Quietest time is very early morning
Strong swimmers can snorkel [rental equipment is available]
Light meals and snacks can be bought on the beach
Showers, bathrooms and changing areas are available
Shops, cafes and bathrooms are plentiful
Port Royal Cove (South Shore Park; Southampton Parish)
Small but popular so expect to share the limited sand space
Good snorkeling for strong swimmers
Pink sand
Popular with families
John Smith's Bay Park and Beach (South Road, Smith's Parish)
Very popular with locals so usually busy, particularly on weekends
Safe for children
Good for snorkelers
Lifeguards are on duty during the summer
Mobile refreshment facilities set up shop in the summer months (nothing available in the other months)
Bathrooms are available year round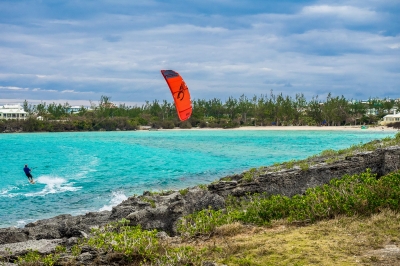 Shelly Bay Beach (South Road, Hamilton Parish)
Very good for small children
Sailing (Hobie Cat or Pedalo) and snorkeling (plus equipment rental) opportunities
Well stocked shop offering snacks, drinks, bathrooms, changing areas and lockers
Beach chairs, towels, umbrellas etc can be rented by the hour