Bermuda is a beautiful place lined with the Blue Ocean and sandy beaches. It must be in your must visit places and can be your next holiday destination. Bermuda is beautiful, airy and filled with nature's best offerings. Tourists flock the place all year round to take the essence of nature and the beautiful weather. If you are planning to spend at least a week in Bermuda then there are many things to do including shopping. Shopping at a vacation place strengthens the memory of the holiday and you can always look back on the things.
Best Place to Shop in Bermuda
Hamilton is the capital of Bermuda and without any doubt, we can say that it is the best place to shop in the archipelago. Hamilton is filled with malls and independent shops where a tourist can buy almost everything they want. Some of these places include the Washington Mall, A.S. Cooper, and Sons limited, Astwood Dickinson etc. Tourists can roam around the city and enjoy its culture and heritage and look into different shops to stock on pretty things.

What to Buy In Bermuda?
Hamilton is filled with shopping places where you can get things at a good price. Shopping can be done in roadside shops or even established shops. Some things that you can buy are:
Bermuda cedar items are quite popular and beautifully designed. You can find immense items like tables, chairs, mugs, vases, frames, sculptures etc. Just check for the quality and price before getting it.
You can shop for different types of jewelry in Bermuda; they have a local touch to it in forms of long tail jewelry or pieces with pink beads. There are specialty stores where you can find beautiful items.
If you are a fan of the comfortable Bermuda shorts then you can buy it as soon as you set your foot in Hamilton.
If you are a fan of glass items then you can find intricately designed glass items in Bermuda. You can even visit studios where you can see them making glass products.
Bermuda is known for its perfume which is derived from its natural habitat.  Visit a perfumery and take in all the essences which you enjoyed during your holiday.
Bermuda is known for their Rum Cakes, never forget to take it as a souvenir if you visit Bermuda. The cakes are delicately made using the Black Seal Rum which is brewed locally.
Alcohol is also a good thing to buy as the prices are low and the island offers heritage spirits for you to taste. If you are from the US then you can even take 1 ltr with you duty-free.

Best Places to Shop in Hamilton
Alexandra Mosher Studio Jewellery is the right place for you if you love art and jewelry. They make pieces of jewelry that you can customise to give a touch of your own. The unique pieces are not very expensive and can be a good relic remembering your visit to Bermuda. You can get a piece studded with the infamous pink sand of Bermuda.
Flying Colours is a family owned independent shop known for their good quality T-shirts for everyone and it can become a memorable souvenir.
If you are a fan of specialty tobacco then you have to visit the Chatham House which was established in Hamilton in 1895. You can choose products from a diverse range and also gift it your friends when you go back home.
Picturesque Gallery is positioned at a beautiful place and is apt for people who love to take art and books home. You will easily be able to find a piece that is just meant for you. If you have followed the Bermudian photographer Roland Skinners then this is the best place to see his art.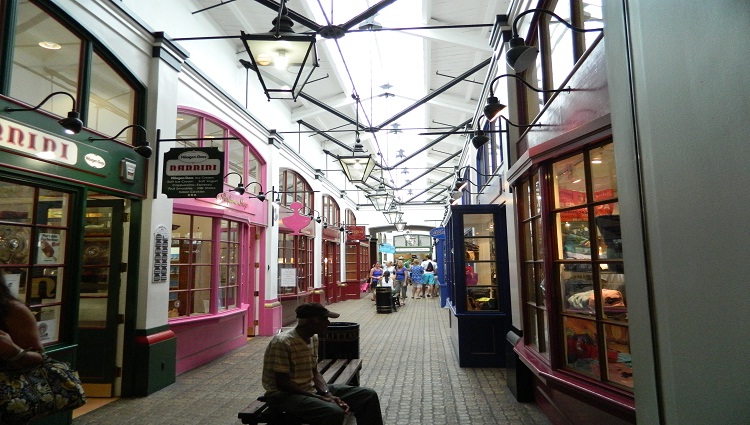 Astwood Dickinson Limited is a premium jewelry shop and watchmakers who have an extensive collection and friendly staff. Along with world famous brands, they also have the Original Bermuda Collection made by superior goldsmiths.
The English Sports shop is quite famous among tourists as they hold the original Bermuda shorts. They even stock favorite brands that people love to wear. The prices are great and shorts are available in an array of colors and designs.
Gibbons Company is a well-known departmental store in Hamilton where you can find almost all your necessary items. They even have gift items like perfumes and cosmetics.
When in Bermuda do not forget to shop locally for the places lining the streets. You will love to get involved in the culture and know the locals better. Always remember to look for good deals when you are out shopping. Try to visit the luxury shops for their hospitality and artistic collections.