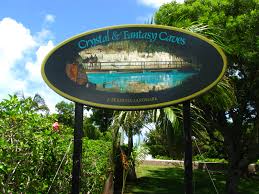 The Crystal Caves are a definite must-see for visitors to Bermuda. This is nature at her dramatic best, showcasing mystical rock formations formed over 1.5 million years ago during the Pleistocene Ice Age, and the clearest lake water you will ever see.
What to Expect
The caves, which were discovered by accident in 1907, take their name from the hundreds of stalactites and stalagmites which shimmer like crystals in this magical illuminated space 120 feet (36 metres) below ground. Also underground and close by is the 55 feet, (17 metres) deep, Cahow Lake, with a bridge visitors can use to cross it.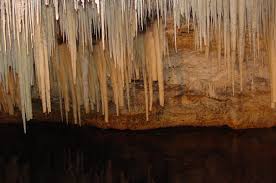 Fantasy Cave
Close by is Fantasy Cave, opened in 1914 and open for tours if you choose to pay extra to see both caves. The beautiful, multi-coloured formations glitter like iced drinking straws, and are a lovely sight to see.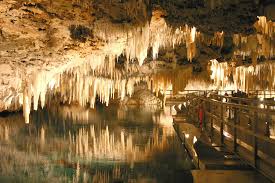 Accessibility
The Crystal Cave can be reached by following a sloping pathway and a few steps, and low heeled, rubber-soled shoes are recommended. Those with walking difficulties or problems with confined, warm spaces may find it a little difficult.
Visiting Fantasy Caves involves a fairly steep descent, so a decent level of fitness is essential.
Guided Tours Only
Visitors are not allowed to wander the caves freely, so booking ahead is essential during busy times to secure a place on a guided tour. The guides are highly praised for their knowledge, storytelling and sense of fun.
Tours involving both caves start with a look around the grounds.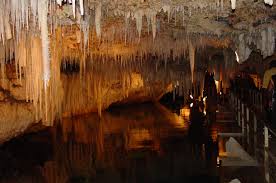 Opening Hours
Both caves are open daily between 9 am – 5 pm, (only closing on some holidays), with guided tours running around three times an hour until 4:30pm. Allow at least 30 minutes to see one cave, and an hour and a half max to see both.
Location
8 Crystal Caves Road, off Wilkinson Avenue, Bailey's Bay, Hamilton Parish, Bermuda.
Phone (Crystal Caves Information Center): 441/293-0640; Email: info@caves.bm
Parking for cars and scooters is available on site, and several buses stop nearby. Check the most recent transport details at the tourist information venues.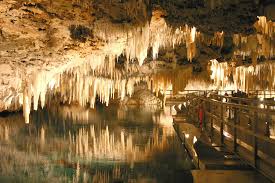 Admission Fee
Adults – $22 (1 cave); $30 (both)
Children (5-12 years) – $10 (1 cave); $12 (both)
Under 5s – free
No advance booking is required.
Shops/cafes
After your tour check out the small gift shop, where you can buy small gifts or souvenirs to remind you of this lovely place.
Visitors to the Crystal Caves can relax and refuel in the on-site café and enjoy breakfast, lunch, or a light snack, or nip into town (a few minutes walk) and visit the most famous pub in Bermuda – Swizzle inn. (Lunch only)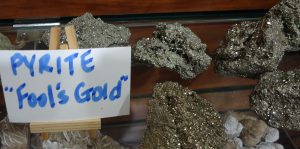 Celebrity Connections
In1908 famous author Mark Twain visited the caves, and 80 years later Bermuda native and artist Michael Frith co-created Fraggle Rock based on the fascinating background and look of the caves.
References
Les Crystal Caves Bermuda – French version of this post ))